---
Brief Description of Services
---
The St. Lawrence County Department of Social Services provides temporary assistance to eligible individuals and families to help them with their basic needs until they can become self-sufficient. Toward that end, we have employment programs and other supportive services such as day care so that people can find and maintain employment. We also administer programs which can assist people with their medical expenses and nutritional needs.
In addition, Children's Services helps families deal with problems so they can stay together and, when necessary, provides foster care. Child Protective Services investigates allegations of abuse and neglect. Child Support assists in collecting financial support from legally responsible relatives.
---
Useful Web Pages
---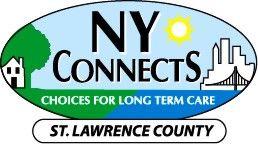 Visit NY Connects: Choices for Long Term Care:  Free information and assistance service that is available to individuals of all ages and their families to help them make better decisions regarding their long term care needs. NY Connects will serve the elderly, adults and children with disabilities, regardless of their payer source. NY Connects is a trusted resource that provides impartial and unbiased information about Long Term Care choices in St. Lawrence County. Click on link (above) for the Resource Directory or on picture (below).
---
Visit NYS MyBenefits:  The fast and easy way to find out about many health and human service programs and how to apply for them anytime and anywhere.  Click on link (above) for the Website or on picture (below).
---
To Report Possible Fraud, please Call (315) 379-2145 or go to Website  to complete the Report Welfare Fraud Online Form.  Callers may remain anonymous.
---