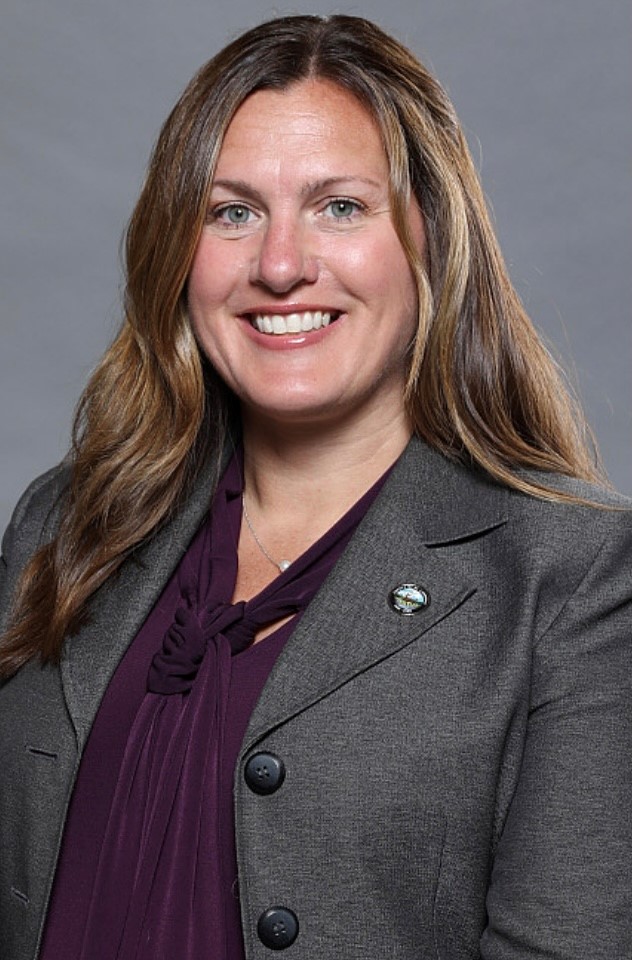 I am the Administrator for St. Lawrence County Government overseeing 25 Departments and 865 employees since April of 2015. My first term concluded in December of 2018, and in 2019 I was appointed to a second term which concluded this year and in February, I was appointed to my third term. Prior to this appointment, I served as the Assistant Administrator in St. Lawrence County for seven years and the Deputy Clerk to the Board of Legislators for five years. In 2003, I began working for St. Lawrence County after working in Healthcare Administration with Claxton-Hepburn Medical Center in Ogdensburg. 
I am extremely fortunate to have found meaningful employment in a place where I have roots. The feeling of home, its scenic environment, the quality of the people, and rural nature of the County are the main reasons that I was certain that eventually I would return and raise my family here. We work hard to make our dreams a reality and with my husband of nineteen years, David, raising our children; two girls and two boys while enjoying a healthy country lifestyle with 4 dogs, 2 cats, a turtle, a fish, and a leopard gecko. Our children are active in sports and this year I am adjusting to life as a college mom. My oldest is attending university in St. Lawrence County and playing her favorite sport.
In each role I have held with St. Lawrence County Government, I have worked conscientiously to gain knowledge about the function and foundation of the County and participate in its evolution over time. I have enjoyed the opportunity to work with some incredibly talented staff and be mentored well throughout my tenure. As Assistant Administrator, I took on a much larger role with the budget preparation process and provided accurate and timely information to the Board of Legislators. I started the quarterly financial reporting update to better inform policymakers about the cost of the Programs offered by the County. I really enjoyed growing my knowledge of county government and have the ability to recommend changes to improve operations.
As County Administrator, according to Local Law No. 1 of the Year 1990 my responsibilities include   Budget Officer, the Purchasing Agent, the Clerk to the Board of Legislators, the County Auditor, and Supervisor of the Board Office, Mail Room & Print Shop, Purchasing Office, and Buildings & Grounds. I believe in a transparent budget process that is engaging for the public who pay us to be here. It is critical to provide lawmakers with the ability to be informed prior to decision making in the County.
I was closely involved with the budget as Assistant Administrator and now as Administrator, eight years (2016-2023) of reductions in the true value tax rate applied to the real property in the County, one of the main sources of revenue for the organization. With one exception, in 2020, the first year in eight that the true value tax rate remained flat. I believe that it needs to cost less for folks to own their homes in St. Lawrence County. For the 2023 Budget, the True Value Tax Rate (TVTR) is $7.60 per thousand of assessed valuation, a reduction of -$.42. It has not been this low since 1986. As a municipality with limited revenue sources, identifying new ways to appreciate savings has been an ongoing process through the years. I recognize the struggle to provide the necessary and locally preferred services and in turn, be one of the largest employers of the County. This is continuously challenged by continuing to focus on reducing, where possible, the cost of operations. The unanswered needs in an impoverished county like St. Lawrence are constant, particularly when you realize that one in three or more county citizens are receiving some type of public assistance. In many ways, the goals that I had coming into this office have been achieved; include improving the fiscal health and maintaining that health for years with a plan to improve operation, taking care of staff and the ever evolve efforts to improve morale and loyalty to the organization charting the course for a successful future that can support its citizens in a helpful manner. We continue as workforce and a county to recover from the pandemic, this has challenged the County in ways we could not have imagined. I am honored to be the fourth Administrator in the history of St. Lawrence County.