---
Our partial service Sanitarian Program provides environmental health education to residents of St. Lawrence County on topics including: 
Water Quality
Septic Systems
Mold
Pests
Additionally, the Sanitarian investigates public health nuisances within St. Lawrence County. 
---
To file a formal public health complaint
Complaint Form *Please read all instructions before submitting your complaint form. Only complaints within St. Lawrence County and under public health jurisdiction will be addressed*
For concerns outside the purview of the Sanitarian, please contact the appropriate agency.
| | | |
| --- | --- | --- |
| Agency | Phone Number | Concern |
| Code Enforcement Officers | Contact official for your Town/City | Housing concerns and property questions |
| NYS Department of Environmental Conservation | 518-402-8013 | Pollution related concerns |
| St. Lawrence County Sheriff | 315-379-2222 | Animal welfare concerns |
| NYS Department of Health | 315-386-1040 | Environmental health concerns, regulations, and permitted establishments such as restaurants |
---
---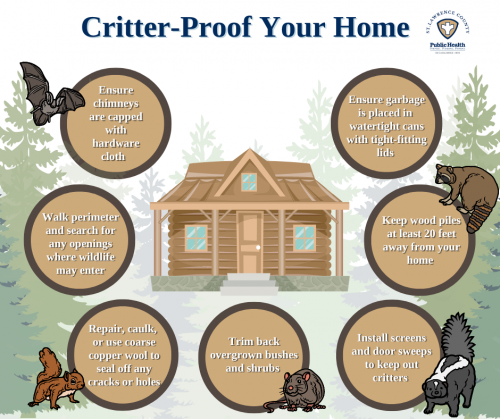 ---
News:
Protect Yourself from Tickborne Disease this Hunting Season
Tips for Critter Proofing Your Home
Tips for DIY Lead-Safe Renovations
Guidance for Maintaining Septic Systems
---
Information on Household Water and Sewage
---
Information on Environmental Nuisance Issues
---
Additional Environmental Resources