Public Relations
Public relations in the community fall on the shoulders of every officer within the Sheriff's Office. This office annually presents over fifty events to thousands of participants, consisting of community health fairs, academic career days for high school students, 911- building tours and Neighborhood Watch. Officers produce NYS Safe Child Cards, speak to scouts, address the elderly, and many other groups in the community.
---
In December 2009, the NYS Sheriffs Association agreed to maintain the Operation Safe Child program previously done by the Department of Criminal Justice Services.  This program creates child safe cards for parents or guardians to present to law enforcement in the event the child goes missing.  Each card contains a picture, 2 fingerprints and other descriptive information about the child which are used to enter a missing persons report.  Additionally parents or guardians have the option of having the data stored electronically on the Missing and Exploited Childrens Database.  If this option is selected, the information can be deleted at any time by the parent or will automatically be purged when the child turns 18.  Our office produces roughly 1500 cards per year, mostly at schools and public events.  Click Here to open an authorization form to print out ahead of time.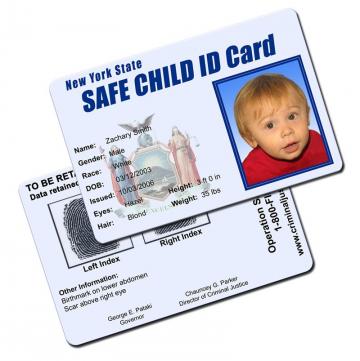 ---
The St. Lawrence County Sheriff's Office is proud to be a participating agency for Project Lifesaver.
Project Lifesaver is a 501 (C)(3) community based, public safety, non-profit organization that provides law enforcement, fire/rescue, and caregivers with a program designed to protect, and when necessary, quickly locate individuals with cognitive disorders who are prone to the life threatening behavior of wandering. The organization was founded in 1999 in Chesapeake, Virginia. The necessity of this program was determined through the correlation between cognitive conditions and the act of wandering.  With the dramatic increase of cognitive conditions since the inception of the organization, the program has grown from a localized program to a program recognized internationally as a proven and effective method of "bringing loved ones home."
The Project Lifesaver Program is run at a municipality level by public safety agencies. When an agency decides to implement the program, Project Lifesaver International will equip them with the necessary technologies and provide training to those involved. The training includes the use of the equipment, the implementation of the strategic methods specifically designed for the program, and also community policing courses that provide a basic understanding of cognitive conditions to better comprehend the behaviors of an individual with said condition. Also included during training is the use of the PLS Database, which is a useful resource provided to member agencies at no cost. Completion of training is required for certification. Once an agency has become certified, they may begin acquiring clients for their local program.
The method relies on proven radio technology and specially trained search and rescue teams. Citizens enrolled in Project Lifesaver wear a small transmitter on the wrist or ankle that emits an individualized frequency signal. If an enrolled client goes missing, the caregiver notifies their local Project Lifesaver agency, and a trained emergency team responds to the wanderer's area. The first responders will then use the client's individualized frequency to locate the position of the individual. The knowledge given from the community policing courses is best applied in this situation because the first responders will know how to best approach the client once found, and allow them to be brought back to safety.
Call our office at (315)379-2430 to get more information or sign up a loved one.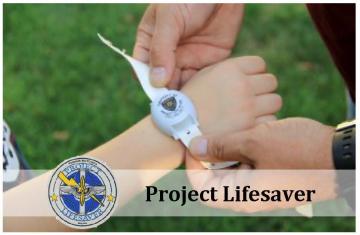 ---
Every summer the New York State Sheriffs' Association hosts a co-ed summer camp on the shore of Keuka Lake in Penn Yan, the Finger Lakes region. Each county is invited to participate and send youths from their community for a one-week camping opportunity. Campers participate in many kinds of activities including sailing, hiking, fishing, educational demonstrations by deputies to include K-9 handling and scuba diving. This camping opportunity exists as a result of the commitment to youth by the past and present sheriffs of New York State. There is no cost attached to this opportunity, which allows over 800 kids annually a chance to interact with others from across the Empire State. Campers from St. Lawrence County are selected based on financial, academic and social need with valuable input/assistance from local school districts. The St. Lawrence County Sheriff's Office coordinates this event for area youth each year and has traditionally sent approximately 30 kids between 9 and 12 years of age on a great adventure!
---
Yellow Dot is a free program designed to help first responders provide life-saving medical attention during that first "golden hour" after a crash or other emergency. A Yellow Dot in the driver's-side rear window of your vehicle will alert first responders that vital medical information is stored in the glove compartment.
The Sheriffs' Association has distributed over 2 million free Yellow Dots to New Yorkers.
HOW YELLOW DOT WORKS
The Yellow Dot kit contains a personal information card and a Yellow Dot decal.
Complete both sides of the personal information card as fully as possible, in pencil. Attach a recent photo of yourself and place it in a visible location in your car's glove compartment.
Complete one card for each person who regularly occupies the vehicle.
Place the Yellow Dot decal on the rear driver's side window to alert first responders to look in the glove compartment for your medical information.
Update the card annually yourself or bring it to your annual medical check-up. If you sell your car, remove the Yellow Dot sticker.
USE YELLOW DOT AT HOME
A Yellow Dot kit can also be used to alert those who respond to an emergency in your home. Simply place a Yellow Dot decal on or beside your front door and place a completed card for each occupant in a clear plastic freezer bag and place in a visible location in the freezer compartment of your refrigerator.
REQUEST A YELLOW DOT KIT
Please note that if you request one kit, we will send you two Yellow Dot cards and two decals in the mail, one for your home and one for your car. Also, to conserve mailing costs, we ask that you please request kits in groups (eg. families, co-workers, friends, or clubs).
Click here to request a free yellow dot kit.